Heartbreakers (2001), Cert 15.

Director - David Mirkin.

Writer - Robert Dunn, Paul Gray & Stephen Mazur.

Starring - Sigourney Weaver, Jennifer Love Hewitt, Ray Liotta, Jason Lee & Gene Hackman.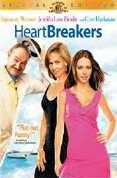 Premise - A mother and daughter con team plan the big con that will let them go their separate ways.

I saw this film last summer on the plane when I was coming home from my holiday. It did a bang up job of cheering me up considering I was a bit down because my 'fun in the sun' was over. Needless to say a small LCD screen and nasty airline headphones is no way to watch a movie so I rented the DVD to give it another once over.

And I am happy to say that Heartbreakers holds up for a second viewing. In-fact it was an eye opener watching it again as it would seem that the airline got busy with the scissors and edited out all the swearing and racier scenes.

Be rest assured, there is many a racy scene in this film. For almost the entire movie the two female leads shoehorn themselves into tight, revealing outfit after tight, revealing outfit. Weaver at over 50 still looks has what it takes, although every now and again she looks a little, well, craggy. It's Love Hewitt however that really gets the pulse going. She is simply breathtaking to look at. My eye's were out on stalks and my tongue was rolling along the floor constantly during the film.

That's not to say she doesn't hold her own on the acting front. She acquits herself wonderfully considering the awesome talent she is on screen with. She seems to have an excellent knack for comedy, maybe she should do it more often than lame slasher-horror flicks. Weaver is also good, she and Hewitt gel wonderfully and there is some real chemistry between them. If you squint a bit they could almost pass for mother and daughter as well.

Lest we not forget the males in the film! Ray Liotta sends up his usual sleazy hard-man act well and has good handle on the physical comedy. Gene Hackman plays a Tobacco company owner who's on deaths door and he is a real joy here. We all know he can do comedy and he is in fine form. My new favourite up and coming actor Jason Lee plays a bar owner who falls for Love Hewitts character (who wouldn't). There is just something I like about Lee and I can't wait to see what he makes of the Fletch character when he and Kevin Smith get a hold of it.

But, as is the case with many comedies the film losses itself in the final third. The sharp dialogue and nice physical comedy go out of the window in favour of a hackneyed, sappy love story that dampens the film to a depressing degree. I felt that the film was getting a little long and a lot of the arc between Lee and Hewitts characters could have been trimmed to bring down the running time and keep the bright pace of the beginning of the film going.

The script is sharp and witty and the story is engaging in general. Although near the end there are a few twists too many I felt. Heartbreakers could be likened to Dirty Rotten Scoundrels, although I can't see Steve Martin or Michael Caine in some of the outfits that Love Hewitt and Weaver squeeze themselves into!

One of 2001's funniest films that is spoiled by a needless cliched love story arc. Still though, worth watching if only to see the divine Love Hewitt in a parade of tight and revealing outfits!
6/10 for Heartbreakers.

Poster Quote - Flirty rotten scoundrels.