Dogma (1999), Cert 15.
Director - Kevin Smith.

Writer - Kevin Smith.

Starring - Ben Affleck, Mat Damon, Linda Fiorentino, Alan Rickman, Jason Lee, Salma Hayek, Chris Rock, Kevin Smith & Jason Mewes.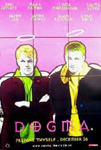 Premise - Two fallen angels plan to get back into heaven by means of a loophole in God's contract. A muse, an apostle, two profits and the last descendant of Christ try to stop them before they wipe out existence itself.

Dogma was the last ViewAskewinverse film I had to see and I can't help but feel a little let down. After the balls-out laughter of Jay & Silent Bob Strike back I was hoping for more of the same. Unfortunately Dogma is just too patchy to be held up in the same light as it's follow up.

It should be noted that as something of an atheist I find religion amusing in general, so a film that takes the stuffy institution of the Catholic church and turns it on it's head is always going to have a place in my heart. Dogma is not an anti-catholic movie, director Kevin Smith is a devout catholic and attends church weekly. He saw Dogma as a way to express how he feels about the current state of the catholic church.

Upon the films release there were picket lines outside theatres showing the movie, which is to be fair is a little harsh. The film is in no way offensive to the church, it just too damn ridiculous. If you take this film seriously as an attack on your beliefs then you have some serious issues.

The film itself has all the usual Kevin Smith trademarks, outside of a few members the cast is almost identical to his other flicks. In-fact it's two of his most used characters that provide the bulk of the enjoyment in the movie. Jay (Jason Mewes) and Silent Bob (Kevin Smith) practically steal this film. They show why Smith decided to finish this series of films in one devoted solely to them.

It's to the films detriment that when Jay and Bob are not on screen that the laughs dry up. The teaming of Affleck and Damon as the fallen angels is good, but they struggle doing comedy and my hatred of Matt Damon doesn't help matters. Elsewhere Fiorentino seems to retread the character she played in 'Men In Black', she is capable, but too cold and distant to care about. Alan Rickman is good in his few scenes, he has an eye for comedy as anyone who saw Robin Hood can testify to. Chris Rock wheels out his stand up routine and Salma Hayek is window dressing and nothing more.

It's always nice to see these characters strut their stuff and Smith's script is a sharp as any of his other films. The pop-culture references come thick and fast and it's fun to watch if you're a movie buff.

That said if you didn't like any of Smith's other films then Dogma is a definite no-go area. Toilet humour and swearing are the order of the day. Smith himself said Dogma was a religious film with dick and fart jokes. If that doesn't sound like your cup of tea I would stay well clear.

A film that sow's the seeds for the follow up Jay And Silent Bob Strike back. When it's funny it's a gut-buster, unfortunately it just isn't funny often enough.
6/10 for Dogma.

Poster Quote - Christ that's pretty funny, BONG.