Abre Los Ojos (1997), Cert 15.

Director - Alejandro Amenabar.

Writers - Alejandro Amenabar & Mateo Gil.

Starring - Eduardo Noriega, Penolope Cruz, Fele Martinez & Chete Lera.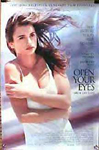 Premise - Restaurant chain owner Cesar (Eduardo Noriega) falls for Sofia (Penelope Cruz) when she is brought to his birthday party by his best friend Pelayo (Fele Martinez). However when he is involved in a horrific accident which leaves him disfigured, his life is turned on it's head. Psychiatrist Antonio (Chete Lera) tries to help him put the pieces of his life back together.

Abre Los Ojos, or Open Your Eyes to give the film it's english title is the movie that was remade last year as Vanilla Sky by Cameron Crowe and starring Tom Cruise. Vanilla Sky is as close a remake as you could hope for. It's not shot-for-shot like Gus Van Sant's Psycho, but it's a damn close facsimile.

Enough about Vanilla Sky for now, how does Obre Los Ojos hold up? Very well, it's a nice little film that holds it's cards very close to it's chest. Filtering out just enough information as it goes to keep the viewer from getting confused and bored, but at the same time keeping enough to itself to make the viewer want more.

Director Alejandro Amenabar (who made last years The Others, which I have yet to see) has crafted one hell of a good looking film. Madrid has never looked better on screen (although in fairness I can't recall another film that I've seen set in Madrid!), lush green parks, high society apartments, laser light night-clubs and deserted city centre streets are all filmed with confidence by the spaniard. Light is used well throughout he movie especially after Cesar's accident. Shadow and light are used excellently to accentuate the horrific injuries to his face.

This is the third film I've seen Cruz in and it's the third time that she has impressed me. She is undeniable beautiful in this film and is not that much of a stretch for Cesar to consider her his ideal woman. Noreiga is also good as Cesar, he plays the part well going from the man who has it all to someone who's life is falling apart at the seams. The rest of the cast is good with Chete Lara of note as psychiatrist Antonio.

However, even though Obre Los Ojos is a fantastic film, for my money Vanilla Sky is the better movie.

As good as Noriega is in the lead role of Cesar I think Cruise nailed it a little more. Noriega just wasn't as intense in the final scenes as CRuise was in Vanilla Sky. I also thought Fele Martinez who played Cesar's best friend Pelayo was no where near as good as Jason Lee in the remake. Cruz was, as expected, the same.

I also appreciated the soundtrack that Crowe had created more than what there was in this film. Crowe used a mixture of classic and current popular music to accompany scenes throughout his movie and for me it worked brilliantly. In this film Amenabar has gone the classical route with a couple of exceptions. Whilst it works, I preferred Crowe's approach more.

Also since I had already seen Vanilla Sky, I knew what was coming all the way throughout the film. Nothing came as a surprise and that was one of the things I liked most about Vanilla Sky, the way it constantly kept the viewer on it's toes.

I digress though, I feel that things may have been different if I had seen Obre Los Ojos first. Things could well have been the other way round. I'm not saying Obre Los Ojos is a bad film, far from it it's very good. I just prefer the remake, although not by much mind.
8/10 for Obre Los Ojos.

Poster Quote - I prefer Vanilla.